Are you an adventure seeker looking for an adrenaline rush? Look no further than Rishikesh, India's river rafting capital. Located in the northern state of Uttarakhand, Rishikesh is known as the "Gateway to the Garhwal Himalayas" and offers an unforgettable experience of River Rafting in Rishikesh. 
Rishikesh is the perfect destination for adventure seekers looking to experience the thrill of river rafting. With its stunning natural beauty and challenging rapids, Rishikesh has become one of the most popular River Rafting destinations in India. With rapids ranging from grade I to grade III, River Rafting in Rishikesh has something for everyone, from beginners to experienced rafters.
There are several stretches of the river that are ideal for River Rafting in Rishikesh, with trips ranging from a few hours to several days. The most popular stretch is the 16 km stretch from Shivpuri to Rishikesh, 
Important Note:- We do not take children under the age of 14 and individuals over the age of 60 for our river rafting experience due to safety concerns.
If you are an adventure seeker planning a trip to Rishikesh for River Rafting, it's important to know the best time to visit. The perfect time to enjoy crystal clear River Rafting in Rishikesh is from September to February. During this time, the water levels are high, making it ideal for experienced rafters seeking an adrenaline rush.
Alternatively, March to mid-June is also an excellent time to enjoy River Rafting in Rishikesh, especially for those who want to beat the scorching summer heat. The water levels during this time are lower, making it perfect for beginners and families. However, the temperature can rise up to 35°C, so it's advisable to carry sunscreen, hats, and light clothing.
Temperature in Winters- The temperature ranges from 18°C to 25°C, making it a pleasant time for rafting. Wet-suits are provided, so you can enjoy the experience irrespective of the weather.
Temperature in Summers- The temperature ranges from 25°C to 40°C, with an average temperature of around 35°C. However, river rafting can still be enjoyed with proper precautions.
It's important to note that River Rafting in Rishikesh remains closed during the monsoons (July to September) due to high water levels in the Ganges. So, plan your trip accordingly.
9 km Rafting in Rishikesh from Brahmpuri
Price – 600 PP
18 km Rafting in Rishikesh from Shivpuri
Price – 1000 PP
26 km Rafting in Rishikesh from marine Drive
Price – 1500 PP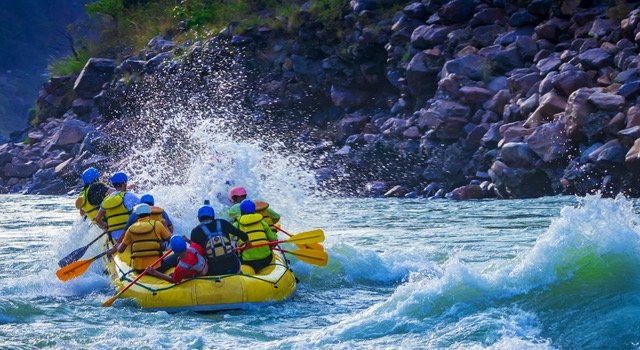 35 km Rafting in Rishikesh from Kaudiyala
Price – 2500 PP
Please note – You are not required to know swimming to do water rafting.
The customer receives a confirmation voucher via email within 24 hours of successful booking
In case the preferred slots are unavailable, an alternate schedule of the customer's preference will be arranged and a new confirmation voucher will be sent via email.
Alternatively, the customer may choose to cancel their booking before confirmation and a full refund will be processed.
If cancellation are made 7 days before the date of travel then 50.0% of total tour cost will be charged as cancellation fees
If cancellation are made 0 days to 7 days before the date of travel then 100.0% of total tour cost will be charged as cancellation fees
If cancellation are made 7 days before the date of travel then 50.0% of total tour cost will be charged as cancellation fees
If cancellation are made 0 days to 7 days before the date of travel then 100.0% of total tour cost will be charged as cancellation fees
The applicable refund amount will be processed within 10 business day

s
If cancellation are made 7 days before the date of travel then 50.0% of total tour cost will be charged as cancellation fees
If cancellation are made 0 days to 7 days before the date of travel then 100.0% of total tour cost will be charged as cancellation fees